Can You Solve the Mystery in 60 Minutes?
Puzzled Escape Rooms is the first Downtown Fargo escape room and offers five differently-themed escape rooms. From fortune-telling to vampires and weddings to the NDSU Bison, we have the theme you want to play. Come play the Downtown Fargo escape rooms and be in the middle of the action.
Our Downtown Fargo escape rooms are fun, interactive experiences for friends, coworkers and the entire family. Search for clues, solve the puzzles and discover the mystery of the room. You have to be fast because you only have 60 minutes to do it.
Our Downtown Fargo Escape Rooms
Madam Zella's Psychic Parlor
Madam Zella is in police custody. She is accused of swindling her clients out of a large amount of cash. You must search her Psychic Parlor and find the evidence against her so that you can send her to prison before the police have to release her in an hour. Can you foresee success in your future?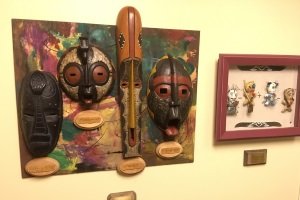 C.J. Kask was a famous explorer from the early 1900's. A selection of his artifacts including the body of the vampire, Prince Zoric, is on display. Unfortunately, the stake was removed from the body of the vampire. Can you find it and lay him back to rest before he can escape his coffin?
The prankster has struck again. He has stolen the Bison's playbook and nobody knows what he's going to do with it. Can you search his Bison Fan Cave and locate it before any of the other teams can get their hands on it?
A famous bird photographer has disappeared and you have been asked to look into her disappearance. Watch out for the men in black because you are not alone in the investigation. Can you figure out why she disappeared before they do?
Your best friend is getting married but the Best Man is in love with the Bride and has hidden the marriage certificate so she can't get married. Can you search the Chapel and find it before the officiant decides to call off the wedding?
All games are $26 per person.
What Our Players Are Saying about our Downtown Fargo escape rooms
Go to our Booking Page. Choose the date, time and theme for your escape room adventure and complete the form. You are all set.
All of our rooms have many clues inside; some hidden, some in plain sight. Find the clues and use them to solve the puzzles one-by-one.
All of the puzzles in our escape rooms propel you toward the solution to the mystery. Solve the puzzles and discover the mystery.
Who Are Escape Rooms For?
Our escape rooms help you ditch your phones and reconnect with your friends and family in person. Make an escape room part of your family game night.
Our escape rooms are a high-quality team-building exercise for your office. Participants learn communication, cooperation and problem-solving.
Whether you are celebrating a birthday, anniversary, or bachelor / bachelorette party, add to it with the excitement of one of our escape rooms.
Frequently Asked Questions
114 Broadway North, Suite L1
Fargo, ND 58102
Have a Question or Comment?